Ook beurs nr 2 komt eraan, nml die van On the Road in Jabbeke, het walhalla van de civiele modelbouwer.
Deze 2-daagse beurs vind plaats op 9 en 10 maart '19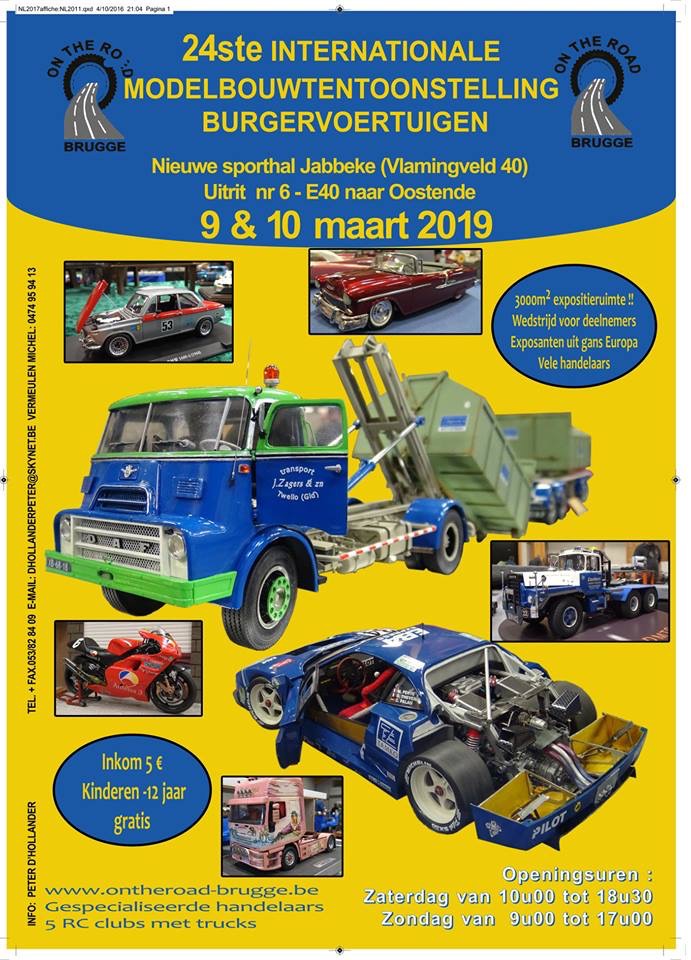 Ondertussen hebben we onze uitnodiging al gekregen en de inschrijving ligt klaar om ingevuld te worden.
Gelieve voor 31 januari ten laatste te laten weten of je al dan niet aanwezig kan zijn en welke dag. (zat, zon of beide)
Begin februari gaat de inschrijving op de bus.
Ook dit jaar is dat wie aan de wedstrijd wil meedoen, zich op voorhand dient in te schrijven. Betalen kan op de 1ste dag zelf als je je kaartjes gaat afhalen.
Ik stuur ook de volledige uitnodiging door aan iedereen die mee doet, daarin zit ook de inschrijving alsook het reglement van de wedstrijd.
En alle andere info uiteraard.
Ook voor wie een maaltijd wil, moet dat persoonlijk regelen. Menu en de nodige bankgegevens staan in de mail.
Voorlopige deelnemers;
-Sennake (beide)
-Nismo (beide)
-TvD (beide)
-
-
-
Hopelijk tot binnenkort